Spring Gospel Explosion
During this three-Sunday event — April 16, 23, and 30 — we're examining Faith we can see in 2023!
Our Gospel Explosion features impactful speakers who will deliver thought-provoking messages and a guest song leader who will elevate our level of praise.
Each Sunday, you're invited to Bible Class at 9.a.m., Worship Service at 10:30, followed by a fellowship meal, and afternoon worship at 3.
Learn more about our guest speakers, song leader, and this event below.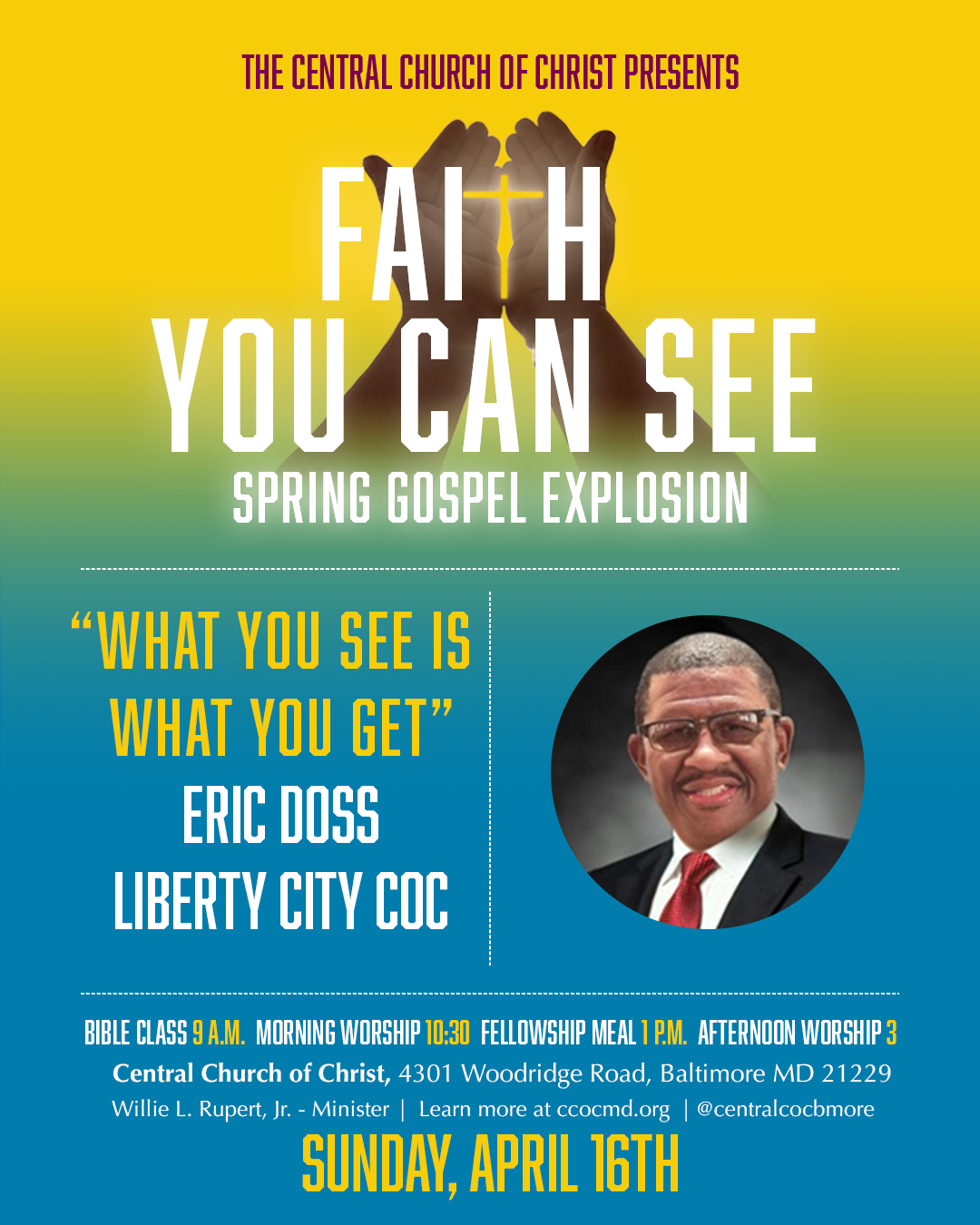 Eric Doss
Evangelist Eric W. Doss is senior minister of the Liberty City Church of Christ in Miami, Florida. He has preached the Gospel and conducted meetings, workshops, lectures, symposiums, and conferences across the United States and on foreign soil. Bro. Doss has served at congregations in Bradenton, Florida; Dallas, Texas; Paducah Kentucky; Enterprise Alabama; Tampa, Florida; and Kevil, Kentucky.
The Bradenton, Florida native is a graduate of Southwestern Christian College and David Lipscomb University. He majored in communications and minored in religious education. He also earned a master's degree in marriage family therapy from Amridge University and is a licensed Prepare & Enrich Marriage Consultant.

Bro. Doss is married to Lana J. Doss, and from this union, the Lord blessed the couple with three daughters — Marquita, Elantra, and Nykki.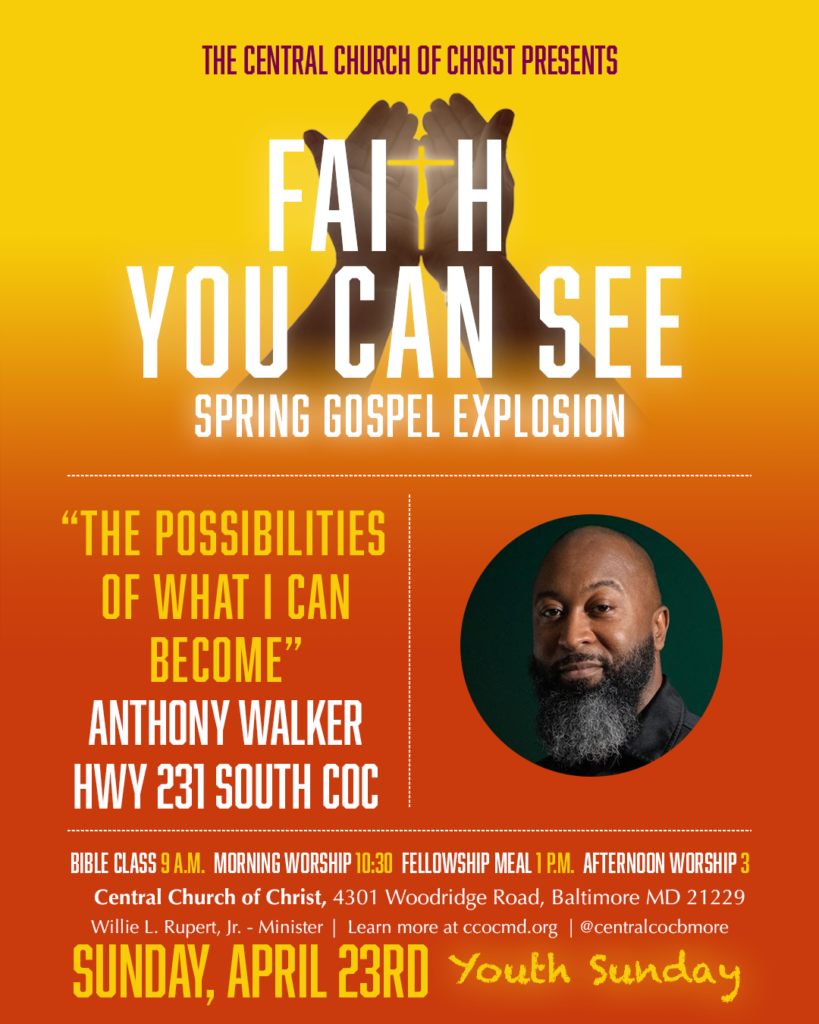 Anthony Walker
Bro. Anthony Walker, minister of the Highway 231 South Church of Christ in Murfreesboro, Tennessee, has been preaching the gospel for more than 25 years. Bro. Walker delivers the Word in a simple, powerful, thought-provoking manner that causes the audience to examine their relationship with God. During his 15-year tenure at Highway 231, the congregation has experienced tremendous growth in membership and in service.

As a member of the Lord's Church, Bro. Walker has actively served as a song leader, youth worker, preacher, and any other role God called him to do. He is a highly sought-after speaker for gospel meetings, workshops, and lectureships.
Additionally, Bro. Walker is on the Board of the Boys and Girls Club of Middle Tennessee and serves on the Board of Barnabas Vision, a charitable organization in Murfreesboro. Bro. Walker is a regular contributor on the Blaze Network Show: Fearless with Jason Whitlock where he gives biblical insight and a spiritual perspective on contemporary issues. He also frequently addresses the issues of godliness, manhood, marriage and family.

Bro. Walker and his wife of 13 years, Jenny, are the proud parents of two young children – a son, Remington, and a daughter, Reign.
richard barclay
Bro. Richard Barclay is senior minister of the Stonecrest Church of Christ in McDonough, Georgia. During 30-plus years of preaching the Gospel, Bro. Barclay has also served as minister at congregations in Texas, Massachusetts, and California.

The Woodville, Texas native is a highly sought-after keynote speaker for church lectureships across the country. He has also led gospel meetings in more than 40 states and has preached
abroad in South Africa and Ethiopia.

Bro. Barclay earned two master's degrees – the first from Gordon Conwell Theological Seminary; and a second one in theology from the California Graduate School of Theology. He received a bachelor's degree with a major in sociology and a minor in religion from East Texas Baptist University.

He's also a long-time supporter of Christian education, as he established an endowment to help support higher Christian education for young men and women. Additionally, Bro. Barclay is
director of the Southwestern Christian College Lectureship.

Bro. Barclay is married to Shirley Brooks Barclay, a former educator and counselor. The couple has two adult sons, Christopher and Reginald Barclay (Monique).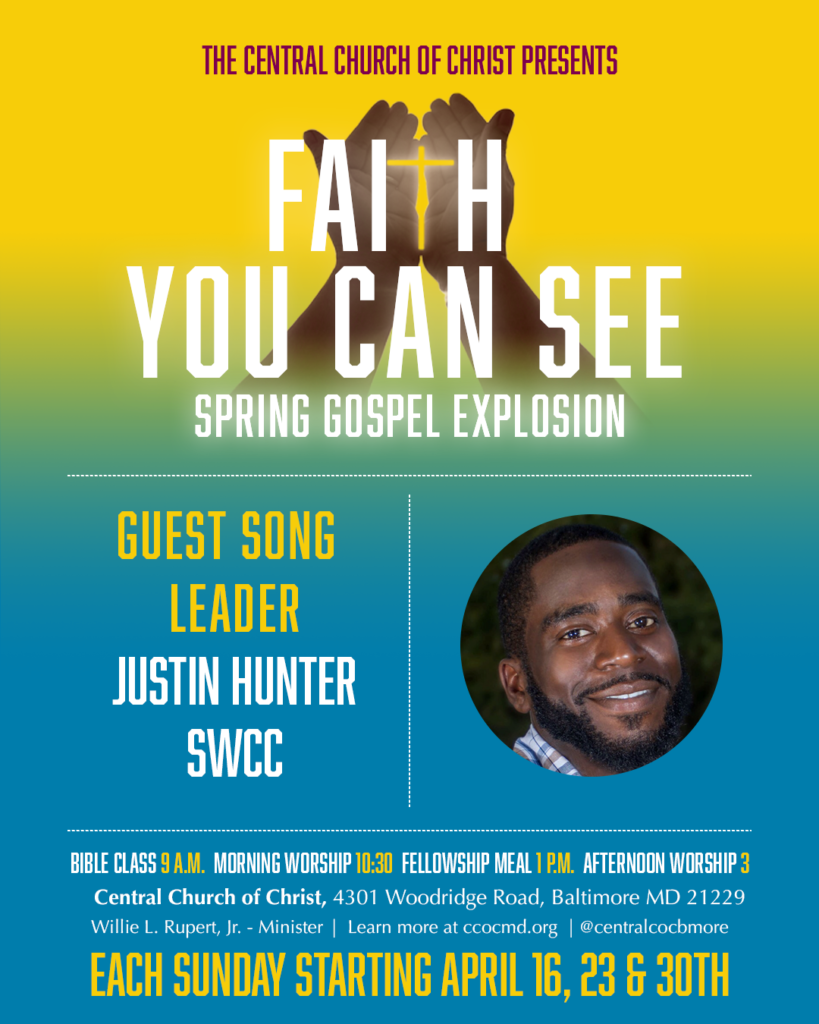 justin hunter
Justin Hunter loves the Lord and enjoys leading God's people in worship. He has had a passion for music all of his life, as he sung in the kid's choir as a youth and continued to sing in the choir
as a young adult.

The West Palm Beach Florida native grew up attending the S Avenue Church of Christ where he began leading congregational singing at the age of 14 and began teaching music at 16. At 16, Justin, the youngest of seven siblings, moved to Tyler, Texas where he became the South Central Church of Christ's Minister of Music. He eventually relocated to Fort Worth, Texas where he served as Lake Como Church of Christ's Music Minister.

Justin, a self-taught music composer, is currently pursuing a music education degree at Southwestern Christian College. Additionally, Justin is a member of Southwestern's chorus and leads a singing group. He also aims to help elevate congregations through worship coaching, workshops, concerts, and church consulting.